This shouldn't really be much of a surprise to anyone, given how simple it is to access adult content nowdays, but xHamster is reporting that more women visited its site in 2017 than ever before. In total, women now make up 26 percent of visitors to the site – and in Honduras and the Dominican Republic women make up more than half of all viewers.
According to the company's stats, there was a 2.4 percent uptick in female viewership throughout 2017 as a whole. Most notably among those stats is the double digit growth in women watching in South Africa and Saudi Arabia – it's particularly surprising given that pornography is illegal in Saudi Arabia and internet access is heavily regulated. China, similarly censored to oblivion, saw significant decreases in the number of women wathcing porn too.
Other countries, like Turkey, imposed more restrictive measures over the course of 2017, leading to a drop in the number of women accessing xHamster overall. In South Korea (where porn has previously been banned), the number of women watching porn online increased, but less quickly than the number of men viewing increased – therefore leading women to make up a smaller percentage of the overall viewing population in the country.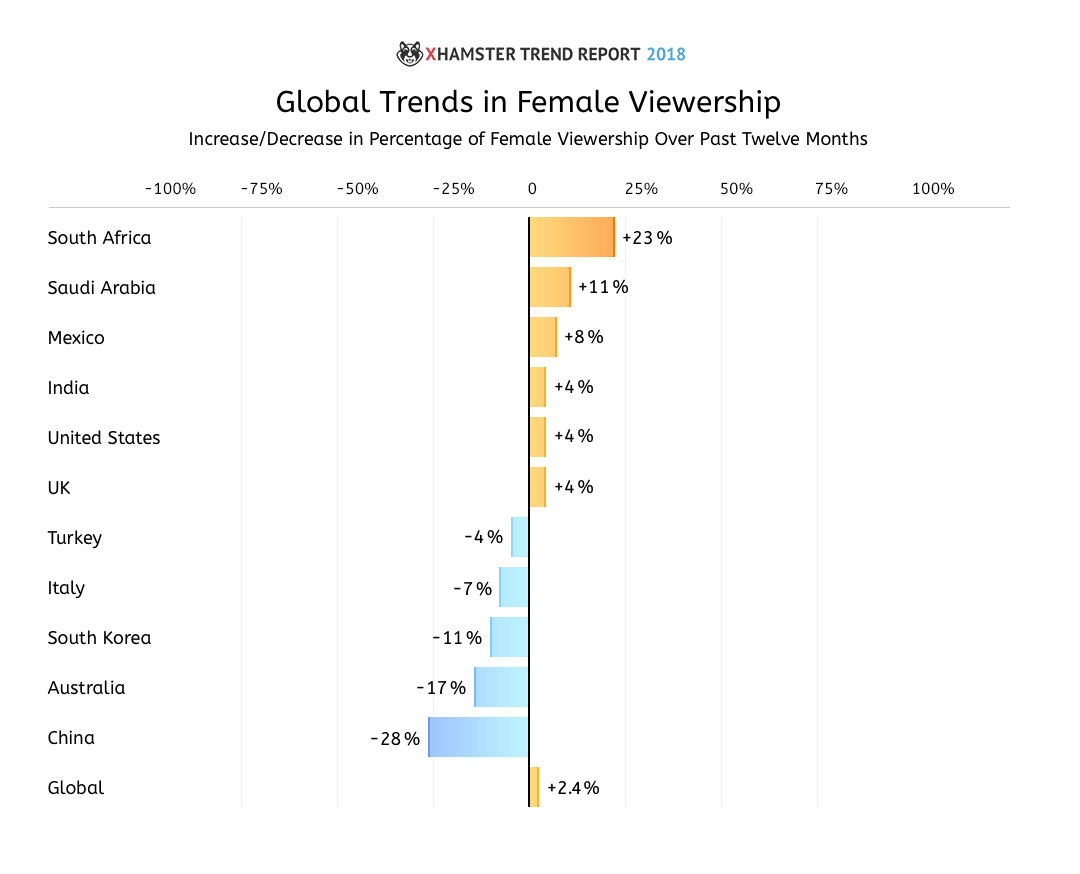 In the traditionally male-dominated world of porn, increasing numbers of women coming online could lead to broader tastes being reflected in the content on offer on sites like xHamster. There's also been a corresponding increase in the number of female-led porn studios like Yanks (100% female produced for 14 years) and Make Love Not Porn, as well as women-founded sextech companies like MysteryVibe and Lioness.io.
On top of this, sites like xHamster and Pornhub have also seen significant increases in the amount of user-generated content submitted to the site by women.
Read next: The Complete Guide to Watching VR Porn